An Eclectic Collection of Artists
The Artisans at the Bishop proudly offer a wide variety of original artwork and selected fine crafts and antiques. Located in the historic Bishop Victorian Hotel, at the edge of Port Townsend's thriving arts district, the Artisans at the Bishop boast a unique selection of styles to suite the tastes of casual shoppers and serious collectors alike.
The studios will be open at various times of the week, and invite you to drop in and say hello. Hours do vary, but are generally 10am to 6pm from Friday through Sunday.
Some of the Artisans Who May Be in Studio During Your Visit
THE CURATOR'S EYE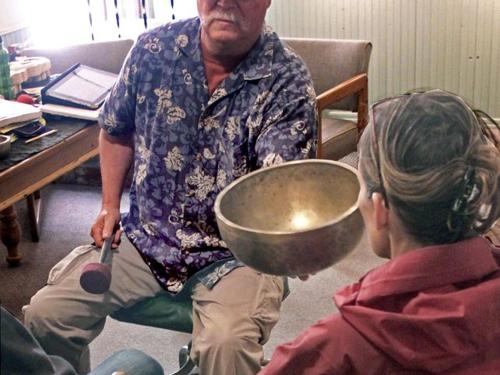 Ron Myhre embodies Port Townsend's Bohemian character. A woodworker, artist and all-around peaceful guy, he is the proprietor of a tiny shop called The Curator's Eye in the Garden Level of the Bishop Victorian Hotel.
On display are myriad curiosities, including hand carved walking sticks, one-of-a-kind collectables and even a hurdy-gurdy. Ron's passion is a large collection of antique Tibetan "singing bowls," each between 100 and 400 years old, resting on small embroidered cushions.
CARRICOVE STUDIO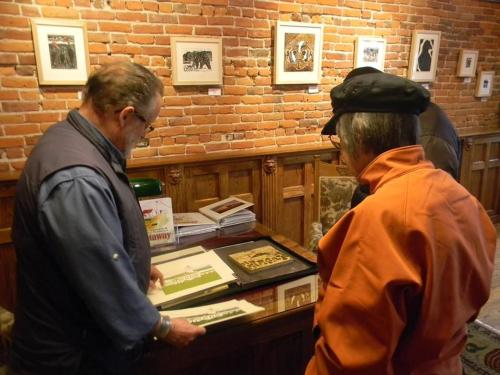 Printmaking has always been a passion of Phil Carrico's due to the intricacies of the line designs and a love for working with wood. The art form began in China and he strives to keep it alive.
Phil's woodcuts and wood engravings begin with a sketch that is transfered to a block of wood. From there,special tools are used to hand carve the block. Phil enjoys multi-colored prints which is a more precise and time consuming process. Some of his works will have as many as 10 colors in layers.
BLUE HERON DESIGNS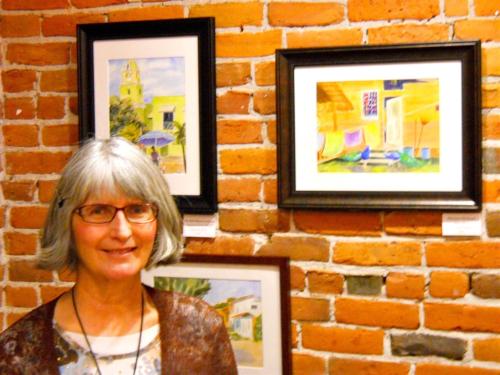 Joanne Heron loves the places where the land meets the sea…Her work usually begins out-of-doors, with art materials and camera carried in a small daypack and after, she brings the studies back to her studio at the Bishop Victorian to further explore light, color and composition.
Joanne strives to convey joy and playfulness to her audience, often leaving detail for their own eye to imagine.